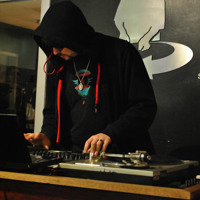 I, like many of my geeky Gotham cohort, can get down pretty hard to some chiptune. Whether it's Blip Festival, the nerdier end of Baltimore DIY, the errant anime/comic convention I find myself at hitting their dance parties, or my own secret stash of chippy goodness that no one but me ever gets to hear, I'm a big fan of the bleeps and boops. This week, I was turned onto a really fun 8bit secret here in Gotham. TWD Industries was put into my face by two of the loveliest ladies I know so it was given the benefit of all the doubts. However, upon actual review, there was no need, as the work stands on its own quite well.
I do get annoyed with poor chiptune quickly, so it was very reassuring how quickly the mix picked up and kept me going with it. If you can drop both a compelling beat and enough ambient FX that I stay entertained you'll keep my attention, but otherwise, I'm outtie in a big way. However, the mix rolls through a bunch of fun grooves in the first 4 minutes, solidly remaining chiptune throughout, but oscillating between heavy and light/airy bleeps & bloops.
The remix at 5:19 is amazing. A chip-tune remix of the "Ecstasy of Gold," the theme to "The Good, The Bad & The Ugly." Yes you heard me right. And it could not work more. Watching the mix evolve from there is a delightful pleasure and it's a fun way to ride out a Saturday I wager. Get at it chip-peeps, you won't regret it.