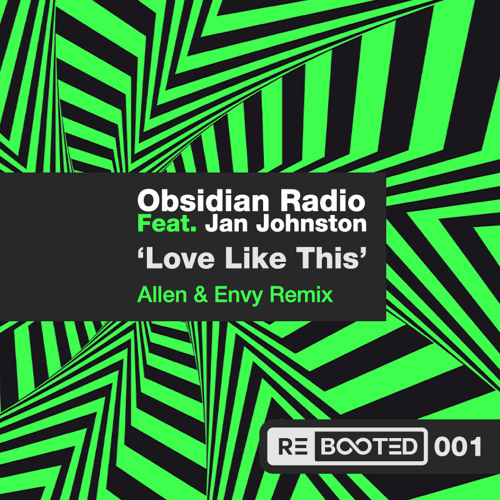 This is the type of sound I've been waiting for. This new REBOOTED record label is kind of everything I want in a trance label. Scott Bond has collected some great talent for this & the remixes on this release are exquisite. I hope you listen to each one.
The original mix hits all of the right classic UK trance sounds in under a minute. It reminds that there's a place for this type of synth-led chord line that I've been listening to since I was in high school. This combined with Jan Johnston's perfect vocal work results in one of these old school tunes that I would flip my shit if I heard played out live. The track is long, the builds are exactly what they need to be and there isn't a stupid EDM "drop" for miles. Obsidian Radio is a name to watch out for, I know that much for sure.
The Allen & Envy remix is a pulsing, potent force that shimmers as it drives along. This is the harder end of trance, this 138bpm remix does the original justice while pushing the energy even higher. The vocal pull down is exactly what dancers need about three minutes in, giving a respite while glimmering in its build-up. This is one of the sounds that I think needs to be heard from coast-to-coast here in the USA, and with tracks like this, I know it's going to happen.
Thomas Datt, a Gothamite, was given the opportunity to drop another remix, this one a bit deeper while maintaining this vintage, empowering feel. This flowing remix layers on some thickness in the beat without the power slowing down at all. There's a more athletic and less glittery sound to this remix which is definitely something I can get it into, especially between 2 & 6 AM.
Touchstone rounds out the EP with an echoing track that I really hope takes advantage of multi-directional speakers. The beat seems to flutter back and forth across the soundscape and anyone who produces this stuff can tell you, this is not easy to do. And it's one of the foundations of the beat/build/break progression. One of my favorite effects in trance getting the spotlight on a sick remix? Yes please. The break is powerful & deeply fulfilling, so enjoy all of these tunes.
I can't wait for the next REBOOTED release! I don't fanboy very often, but this is great stuff. Strong work from everyone involved. There's a bonus REBOOTED remix on the release, so head over to Beatport & grab these tracks!