(Electronicnightlife.com asked me to review the gorgeous KOAN Sound EP that dropped a few weeks ago, show the original post some love: http://blog.electronicnightlife.com/2013/10/29/music-review-koan-sound–asa—sanctuary-ep.aspx)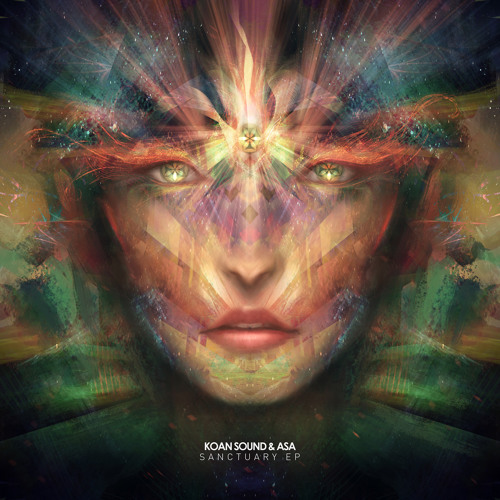 KOAN Sound has taken their production value and artistic sensibilities to a whole new level with their EP "Sanctuary" that was just released with Asa. The collaboration is another step in their distancing from the harder, steppier sounds that populated a lot of their earlier work. There's a lot of good stuff here, with elements of glitch, trap, chillstep, dubstep, UK garage, R&B and ambient mixed to produce some amazing future classic sounds. Asa put out a great little ep with an artist named Stumbleine, and he's been on my radar ever since. This EP continues to impress upon me that OWSLA is one of the best, if not the best label out there at picking new and excellent creations to push into the ears of the post-Skrillex world.
Sanctuary is a brisk, cool breeze on a melancholy fall day. There's a quiet beauty to the beats, strings, piano, teased vocals, with the melodies coming in and out as they please. Four minutes in things come together with a throb of energy but it still remains delicate and chill for all of its grace and presence. Starlite was the single that KOAN Sound released early to hype the EP and it's pretty obvious why. The shimmering voice, strings, high hat work & the breakbeats keep the tune flying along, even as the bass deepens and the synths start to shine. There's some astonishing composing work here and I hope OWSLA artists put this track into their sets, as it's a sound more people need to hear. Check out the video here:
Koo, a talented vocalist who has been in the chillstep space for a minute or two, features on the 3rd track, This Time Around. The playful use of vocal modulators and a full-on guest vocalist works to great effect, with throaty vocals playing against the synthy, burbling chords and bass that KOAN & Asa push out. It's a lush sound that keeps growing around her vocals and drops off wonderfully at the end. Fuego is a deep, dancey track that will reward listeners who have configured their subwoofers properly. There's a lot going on in the sub-frequencies that any bass enthusiast will appreciate. The glitchy tunes combined with the big sound at the lower ends of the EQ result in a fun, stormy track that will be pushed around on the dance floors of some of the more discerning DJs over the next six months I'd bet. It's a track that's not the easiest to mix in and out of, but if you do, your dance floor will thank you.
Tetsuo's Redemption, a likely homage to the Japanese cyberpunk cult film "Tetsuo: The Iron Man," is a dirty, throbbing, oozing way to round out the EP. There's an even deeper feel to the bass here, but it's paired with this hopeful melody that glides along in its lightness. The strings return and dance with the glitch, bass & breakbeats rumbling under them.
A joy to listen to, and one I hope I hear on speakers better than mine soon.