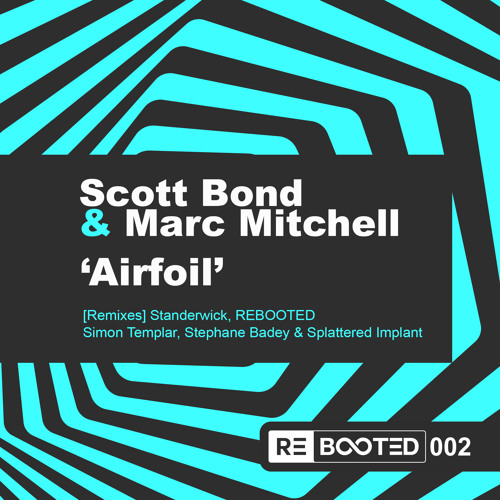 I asked for it and it came! The next release from REBOOTED showed up today and I couldn't be happier with it. The remix pack has 5 proper trance remixes of this Scott Bond/Marc Mitchell track named Airfoil. I can't wait to hear one of these in a FSOE or a 138 set. Grab the 5pack at Beatport here!
The REBOOTED remix keeps the driving force of the label in the center ring. There's some souring electric guitar-styled synths and a beat that is worthy of any trance DJ's set, if they know how to handle it of course. This is a solid, punchy track with a very fulfilling break, one you have to wait like a proper trance head for.
The Simon Templar remix starts off with a bit more of a funky beat, but that pulls into some chilled vibes that bunch together into a playful remix that I'm a huge fan of. Simon Templar is just one of a half dozen artists I've discovered because of this label. Good on Scott Bond for this, that's some amazing scouting. The Templar mix evokes classic Oakenfold feels that pulse through your mind playfully,  the whole thing clocking n at 9 minutes. This takes its time, like good trance should.
The Standerwick remix pulls us back into some more catchy, clubland beats that remind me of almost Voodoo & Serrano or Green Court. There's a vintage feel that's complimented by the solitary piano & vocal line, polished to a mirror shine. This is a track I can't wait to hear Solarstone play live somewhere.
Just in time for Halloween, the Splattered Implant remix has a menacing, haunted twist to it. The beat is half psy-trance, half Blade 1, and I couldn't be happier. The tune feels like it would be right at home on Planet Perfecto, but it's here, betwixt 4 regular trance tracks, and this is the kind of forward thinking I've been waiting for. The tune explodes after a vocal sample that is totally unexpected and turns the track in a darker, vaguely psychedelic style.
Stephane Badey closes out the EP with a driving, hard trance rework of Airfoil. There's a dollop of Infected Mushroom-style psy on this thing, but it packs Veracocha-style punch, so it's not to be underestimated. It pulls back into pure vibes before building deliciously. This is definitely one of my favorite driving crescendos in years and leaves me angry I didn't get more. A+ work all around once again, so grab it on Beatport and